November 18th, 2009
Arsenal: Giving Us The Warm And Fuzzies – Updated with Official Video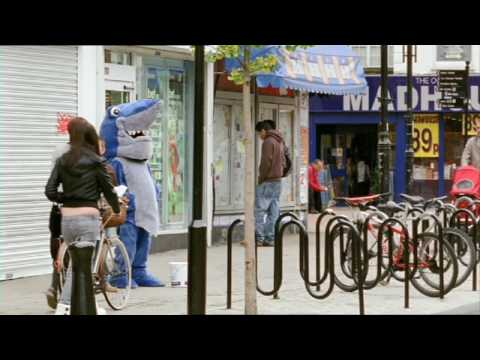 Update: Here's the official video! Enjoy. And shame on you if you ran away from a floppy eared bunny with a bucket.
Original post below.

Sometimes it's best not to find out the answers to the hard questions.
For example, we shouldn't have asked where this photo of Theo Walcott, Cesc Fabregas, Andrey Arshavin and Bacary Sagna came from. We should have stuck with our original vision: every Sunday the foursome get together, put on their happy-making costumes, eat Jaffa cakes, act out their favourite nursery rhymes and have pillow fights. They get very stern if someone takes away the novelty tea pot.
Instead we have learned they're filming a video for the Great Ormond Street Children's charity – and it will be shown during the Arsenal / Chelsea game at the end of the month. Good cause, but we liked our vision too. It made life feel safe, warm and fuzzy.
Side note: Cesc Fabregas is dressed as a bunny rabbit. This is one of the happiest days of our lives. Also, Arshavin chose the shark suit. The other lads had to make good with what they were given.
Link: Donate at Be A Gooner, Be A Giver, or you can donate £2 by texting GOSH to 63320.