November 28th, 2011
Beck Talk: Transfers, Tryouts, & Champagne Taste Tests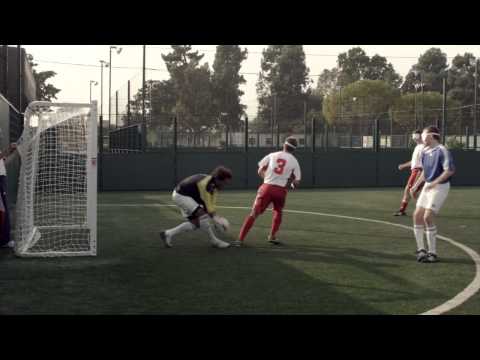 We have little interest in doing much at the mo besides noshing on cake pops and waxing and waning about our one & only.
Please forgive us. Or take pity on our lazy selves. Your choice.
Transfers
It's been brought to our attention that our footy loyalties to hotness (first), thighs (second), and cash flow (third) – rather than to a particular team – is not typical. Nor is it terribly moral, as we've been told.
So for those of you who follow David Beckham's football tenure for reasons other than short tent spotting, this story's somewhat for you.
There were loud rumblings over the weekend concerning a very lucrative, 18 month offer that David and the LA Galaxy supposedly received from Paris-St Germain.
We're on board with this potential move because A) it will finally force us to focus on the French league more, which in turn, B) will help us efficiently source a plethora of delightfully compromising photos of our Lashes, as well as C) reunite us with one of our former flings, Leonardo.
Do the 'true' footy/Beckham/Ligue 1 fans feel the same?
-
Tryouts
Riddle us this: Is there anything Beckham can't bend? Say, a penalty kick whilst blind-folded?
Short answer: Nope – he apparently can do that too.
Long story: Along with Sainsbury's, the former England NT captain recently put his product shill money where his mouth is by training with Great Britain's blind Paralympic football team. Despite his regulation blindfold, worn in the above vid so he could understand how a five-a-side game of blind football is played, Dbecks was slowly but surely put through his paces before successfully converting a PK.
Our conclusion: Although the ParalympicsGB squad felt Beckham lacked "finesse," we'd like to point out how several of David's physical impairments failed to shake his heavily gelled hair from its place.
-
Cruz's Taste For Chompers
During an appearance on Jimmy Kimmel's nightly US chat show last week, the 36-year-old father of four told some family tales including Victoria's inability to shop at Target. The story that hit closest to home for us, though, was the one about him catching his six-year-old son, Cruz, sneaking a cheeky swig of some champagne during the Galaxy's MLS Cup locker room celebrations.
David said:
"The funny thing was in the lead-up to the game my son was like, 'Daddy what do you do after the game?'

"And I said, 'Well, if we win we spray everybody with champagne.' And I could see him thinking. And the first thing he said to me when he came onto the field after the win, he said, 'Daddy we can do the champagne thing now!'

"We were in the locker room and I kept him right back out of the way because there was champagne flying everywhere, and I looked back to see if he was OK and he was like that with his mouth open."
We suddenly feel like proud mamma bears watching their cubs roam free in the wild (with their hip flasks) for the first time.