December 30th, 2009
Cheers! To Good Friends and Footie Resolutions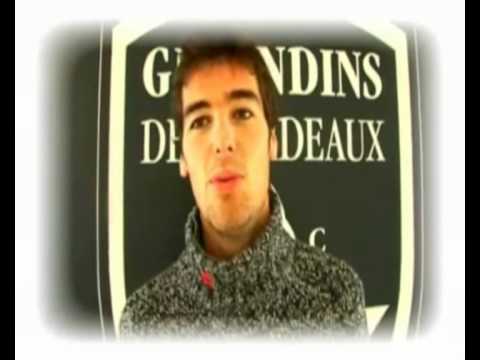 Looky here: The above video features Yoann Gourcuff. He personally sent his best wishes to our entire Kickette army for the New Year!
Oh, fine. We're lying. But we had to get one more falsehood in before we resolve to become better people in 2010.
On the first of each year, we make the promise to drink more and stalk less with much fanfare. And every February we realize there's no chance in hell we can actually make that happen for 365 days straight.
With this in mind, we've decided to align on more manageable goals, and we implore you to hold us to them. Take a peek after the jump to learn which of us plan on bringing Daniele De Rossi's underpants back and who is lobbying for a Finest Five list that includes 'Nando.
Kickette HQ's 2010 Resolutions
The Boss Lady
1. Iker. One hour
2. Source some kind of yogi mentor that believes in an alcohol-infused technique to deal with the excitement, drama and stress of watching England in the World Cup
3. Stop slow dancing with my life-sized David Beckham cardboard cut out. Or at least reduce it to 3 times per week
The Jet-Setter
4. Learn more about Ligue 1 and Printemps because Yoann would want it that way
5. Stop imagining Fabio Cannavaro's thighs every time I touch my other half's scrawny ones.
6. I take back number 5. That's simply not going to be possible.
7. Get the total freckle count on Fernando Torres in order to plead his case for F5 entrance
The Lush
8. Finally give Cristiano Ronaldo an ultimatum. He either donates a 25-karat sparkler to my left finger or stops hijacking my footie fantasies
9. Diversify the short tent category by finding men who can rival John Terry's ability to bulge. Further,  encourage Boss Lady to take more vacation time so caution and moral compasses can be thrown to the wind in favor of high-quality crotch shots
10. Strike some sort of balance between my love for hyphens and top shelf Tequila
The Stylista
11. Accept that I will never catch Victoria Beckham popping in for a "quick bite" at Burger King
12. Stop copying/posting suitable outfit options for Sergio in Polyvore and embrace his unique fashion anthem for what it is
13. Ambush Iker with epilator. Remove beard. Follow with hug
14. Cease obsessing over Luca Toni's wooly hat collection.
Boss Lady – added
15. Approve 45% more short tent posts in 2010
–
Have you made any resolutions for the new year? Let us know of your year-long footie targets and we'll do our best to provide you with all the 'baller photos and gossip your little Choos desire.