July 9th, 2010
Dressing Room Discoveries: Carles Puyol And Lukas Podolski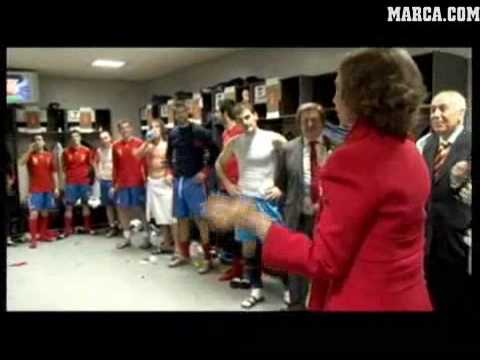 If you love football, you love the powerful and inspiring psychological mindset required of its players. No, we're not talking about remaining calm in the face of pressure, nor battling through any doubt or worry after an injury. We're talking about the glorious mental state of Non-naked Shame.
On that note, let's look at two recent happenstances that continue to prove footballers care little for cameras or prying eyes whether undressed, half dressed, or thinking about getting dressed. (Our absolute favourite example is here.)
First up, (video above) the Spanish NT meeting Queen Sofia after their semi-final victory against Germany. Sadly, it would appear few had time to completely strip off before royalty entered the dressing room, but Carles Puyol had no issues accepting her congratulations whilst wearing just a towel.
Side note: other things that occur in this video include Iker tossing something suspicious onto the floor (a razor? A carb snack? A stack of money?) and Sergio Ramos attempting to clean up so the Queen doesn't break her royal behind on the man mess.
However, the Germans are not ones to go down without a fight. And as such, the lovely Lukas Podolski countered the rather tame Spanish footage by offering (albeit unawares) a completely starkers shot in the German change-room. Click and zoom. We're not going anywhere.
Who knew Poldi would reject a little pre-World Cup manscaping? Fascinating.
Thanks SM!