April 27th, 2012
Good Week/Bad Week: Bets, Bans & Bad Moves
Today's week in review begins with a pop quiz. Whose abs are these?
And more importantly, why aren't they hanging up in the Kickette office?
GOOD WEEK
Ab Alert!: Full stalking points to you if you identified our protagonist as Jamie O'Hara. The Wolves midfielder was engaged in some exercise related activity and his partner, Danielle Lloyd, was generous enough to take some pics of the merchandise.
Don't Bet On It: The solicitor acting for Wayne Rooney's father confirmed his client was cleared of involvement in a soccer betting scam earlier this week. He was among nine men arrested in October last year after suspicious betting patterns were discovered in an SPL game between Motherwell and Hearts in 2010.
Goochy Call: The ever reliable Oguchi "Gooch" Onyewu tweeted a snapshot of his appearance in this month's Portuguese edition of Men's Health. While the quality is poor, it still gets the job done for us.
-
BAD WEEK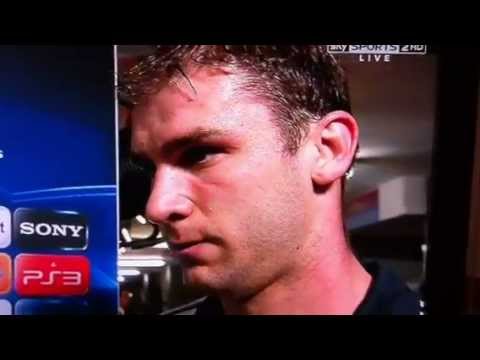 Quitters Never Win: Palermo have confirmed that director of sports Christian Panucci has resigned – just a month after his arrival. According to reports, Pannuci tendered his resignation after a disagreement with prez Maurizio Zamparini – a move that's probably best for everybody considering Zamparini's subsequent comments in the press.
'Ballers & Their Automobiles Behaving Badly, Part Inifinity: Sunderland's Lee Cattermole was cautioned for car damage while Spanish striker, Francisco Sandaza, spent a night in police custody after he pulled a Nicole Richie by driving the wrong way down a street. Oy.
Sitting It Out: UEFA said it will not change rules banning suspended players from the Champion League final (six in total will miss out), despite pleas from union FIFpro. It isn't clear whether officials had seen Branislav Ivanovic's face when Sky's Geoff Shreeves broke the news to him on live TV before making their decision.
-
TTYL/TGIF/HAGW/ETC Kickettes!