February 24th, 2012
Good Week/Bad Week: Cuteness Combustion
Kai Rooney gets his Harry Potter on. He's going to regret this when he's playing upfront for England. Image via Daddy's Twitter.
The boys seem to be learning our ways, Kickettes. This week they have been smoothing us over with everything from compliments, photos of abs, and their pronunciation of the names of diminutive English singer/songwriters. Oh, and the odd photo of a criminal offence in progress.
A little cute n'cuddly action should restore our karmic balance in time for Friday happy hour, no?
GOOD WEEK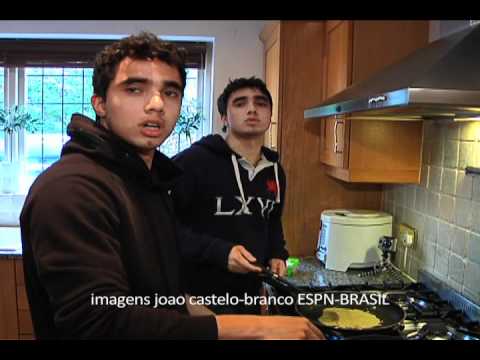 Watch With Caution: Take two identical Manchester Utd defenders (the cuter the better), a couple of frying pans, a tub of Marks & Spencer pancake mix and the kind of culinary ineptitude only usually seen prior to a Kickette bake sale (don't worry, we get caterers) and what do you have? Well, nummy pancakes, surprisingly.
Hot Pants: Having availed you of Sylvie van der Vaart's partnership with Dutch underwear giant Hunkemöller last month, we are pleased to supply you with a preview (left) of her work for them. As you might expect, Rafa's wife looks amaze-balls in the pictures and we can only imagine what the TV commerical, due in March, may entail.
Don't Ask, Just Watch: A selection of Barcelona players have made a motivational video for Turkish Airlines management and staff. From watching it, we learned two useful trufax: Gerard Pique clams up when unreasonable pressure to perform is applied and secondly, football legend or not, we want to pack up Leo Messi like a puppy and keep him in our handbags for emergencies.
-
BAD WEEK
Apparently Franck isn't the only guy at Bayern Munich with 'physical contact' issues. Image: Alexandra Beier/Bongarts/Getty Images.
The Handshake: After months of campaigning by the UK media, snubbing someone's offer of a handshake has become a universally accepted, non-contact form of a bitch slap. Whether Franck Ribery was aware of this when he walked off the pitch after being subbed during Bayern Munich's 1-0 defeat to FC Basel this week and blanked his manager, Jupp Heynckes, we don't know. Bayern's president Uli Hoeness probably does, but don't ask him because he doesn't want to talk about it.
Wicked Witch of the North (London): Having been left out of Stuart Pearce's England squad to face the Netherlands, Alex Oxlade-Chamberlain faced another devastating blow this week when Arsene Wenger banned him from taking part in a photoshoot for Disney. Obviously the Arsenal manager felt that the excitement would be too much for the Adorkable boy and he wouldn't be able to concentrate on schoolwork, which in this case is a game vs. Spurs on Sunday.
Feline Flight Risk: Shankly, the tabby cat who invaded the Anfield pitch during Liverpool's EPL fixture vs. Spurs and became a worldwide celebrity, has escaped from his adopted home and gone on the run. According to the animal rescue centre where he was residing, "Cats like Shanks, which we call street toms, are very hard to tame. They are very worldly and know every trick in the book."
Hmm. We don't mean to be facetious, but isn't that what most elite footballers erroneously think of themselves? Keep an eye out for a tabby cat cruising around Liverpool city centre in a pimped out Range Rover, Kickettes.
It's only a matter of time.