November 18th, 2011
Good Week/Bad Week: Driving With Undue Hair & Some Tension
Robbie Rogers. A little too much garment-age for our liking, but we're working on it. Image via kckrs.com.
We love writing for you guys. It doesn't matter whether we're waffling on about racism in football, Fabio Capello's surprisingly attractive ab situ or certain people's unmentionable hair, you always have something to contribute.
Cheers to the weekend (and to you gals and guys)!
GOOD WEEK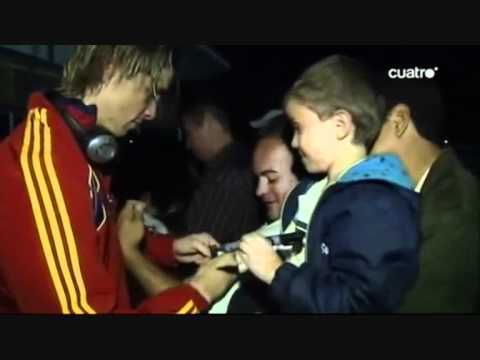 Pitter Pat: You might have seen versions of this gem floating around the interweb already, but if you haven't, brace yourself. During an otherwise uneventful Spanish NT post-training signing session in Costa Rica, a small boy waits (relatively) patiently for Fernando Torres.  The rest? You'll just have to watch it. This kid has a future, people. He scared the crap out of Carles Puyol, too.
Hon For Hire: Columbus Crew winger Robbie Rogers' not inconsiderable talents as a naked clothes horse (see above) are now available for hire through the Heyman Talent Agency, who also represent former MLS hottie DaMarcus Beasley. Obviously we are now working on our line of Kickette-branded see-through Speedos with renewed vigour. Nom nom nom.
Haircare Hunch: Fans of Everton FC and/or England based fans of big, uncontrollable hair will be pleased to learn that Marouane Fellaini has committed to the club for another five years. Rumours that no other club made an offer due to the Belgian's unreasonable haircare demands are unnecessarily mean.
BAD WEEK
'Driving' Bannan: Aston Villa and Scotland midfielder Barry Bannan has been charged with 'driving without due care and attention' (and a number of other offences) after an accident in October. You'll remember Barry. He took his shirt off after a Scotland game in the same month, and failed to impress you then, too.
Fruity Guti: Terrible news for aficionados of Guti's 'unique' brand of personal styling – he has confirmed via Twitter that he is now fully booed up with model and TV presenter Romina Belluscio (left). There is a reason for cheer in this dark cloud though; it's only a matter of time before they go through the 'mimicking each others clothing' phase. Snork.
When You're Hot, You're Hot: It's surely indignity enough to feature in the low point of British TV that is 'TOWIE'. But not if you're Maria Fowler, who compounded her shameful credentials by swinging and missing at Chelsea's resident lothario, Ashley Cole this week. Cole, who was out at a 'celebrity' party, apparently mistook her for a prostitute and had to be dispelled of the notion by his friends. Ooh. That's gonna burn.
-
Have you ever grown a crap goatee and an unfeasibly large bouffant, Kickettes? Been mistaken for a prostitute while patting Barry Bannan on the head? Why not be charitable and offer forth your shameful stories?
We could do with a laugh.