November 25th, 2011
Good Week/Bad Week: From Cleansing To Corrupted
Juan Mata's seen** Ronaldinho's video. Have you? **Actually, Juan was at the ATP Tour Finals at the O2 Arena, but this is the expression we pulled before falling to our knees when we saw the infamous vid. It seemed fitting. Image: Julian Finney/Getty Images.
The week started as a soap opera, segued gently through fantasy into fashion commentary before coming to rest in Xabi Alonso's shorts. Unfortunately, it's gonna finish on an horrific note – first visual, then emotional.
Sorry Kickettes. We only spread the gossip – we don't have control over the content.
GOOD WEEK
Oh Deer: Images of male footballers with furry creatures have been limited this week, which is why we're extremely grateful to USWNT midfielder Megan Rapinoe. She tweeted this picture of herself bottle feeding a baby deer in someone's kitchen, simultaneously fulfilling our criteria of 'hot footballer' and 'cute animal', albeit in a less traditional sense. Cheers then!
Win-Win: Amazeballs news for the American Samoa NT – not only did they register their first win EVER in a competitive fixture vs. Tonga, but they did so as the first team to field a 'transgender' player. Johnny 'Jayieh' Saelua played in defence and received the Man Of The Match honour, which offered plenty of facetious gag opportunities to newspaper leader writers, we presume.
Dicing With Death: Zlatan Ibrahimovic has developed a rep as a less than tolerant soul – seemingly requiring little or no provocation to maim a fellow professional during the course of his day. So when we saw this footage of Baby Bojan Krkic goosing Ibra from behind, we expected nothing less than our beautiful innocent boy to be returned to us in a small bag. Luckily, Ibra either loves his former Barca team-mate as much as we do, or behaves impeccably in front of kids. Either way, we love it.
BAD WEEK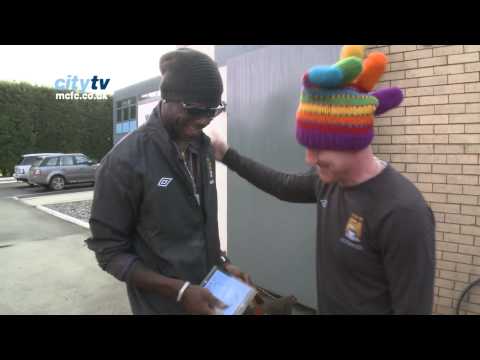 Just Don't: Alright, it was an awe-inspiring hat. You might feel the need to reward the man with the cojones to wear it. But we really feel that at this point in his career, Super Mario does not need any encouragement to dress like a lunatic on day release. Bless him though. He looks so bewildered by the whole affair, we'll consider forgiving his heinous hat crimes. At least for the duration of this video.
Size Matters: It's usually Ronaldinho's commitment that comes under scrutiny from his coaches, but this week Flamengo manager Vanderlei Luxemburgo had an entirely different matter on his mind at a post-game press conference. A video of the player engaged in a little self-lovin' is currently circulating the internet (our advice? Just don't) and when asked to comment, Luxemburgo first enquired as to the dimensions of Ronaldinho Jnr. We. Just. Kant.
Unbelievably, It Get's Worse: Despite the entire Kickette staff locking themselves in the Mayhem & Fruit Beverages Suite and refusing to take calls (nothing new there, really), news has snuck under the ill-fitting door that Iker Casillas wants to be a papa. Spain's In Touch mag has it that for the moment, Iker's squeeze Sara Carbonero 'is not yet ready', but the couple may be considering a move to a new home more suitable for a fam.
-
Combine that with sight of Ronaldinho's bathroom activities this morning, and we're not optimistic our good cheer will resurface in time for the weekend, Kickettes. You?