October 7th, 2011
Good Week/Bad Week: Good Deeds & Grandads
Only one person in this photo has a fully functioning set of knees. Can you guess which one? Image via twitter.
Whether it's signing petitions in aid of animals or thinking about spending more time with the oldies, this edition of Good Week/Bad Week is packed to the rafters with inspiring ideas.
Even the Carlos Tevez story. Although to be fair, all that saga inspires us to do is stop reading the newspapers.
GOOD WEEK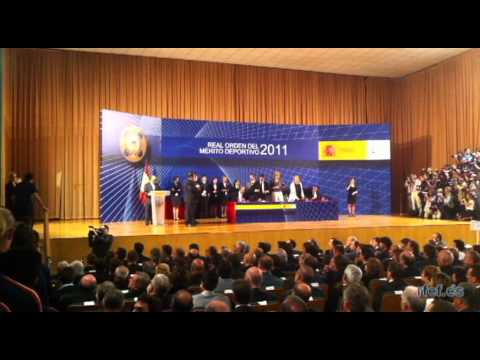 Enough Already!: The Spanish NT added the Order of Merit (above) to their already bloated trophy cabinet this week. We've calculated that this makes the 'Jim'll Fix It' badge the only bauble they haven't picked up in recent years, but we're sure it's only a matter of time.
Holden Grey: If you'd have told us that 'players with pensioners' was about to usurp bubbas & ballers as our go-to photo category for whiling away those pesky work hours, we'd have frisked you for chocolate and sent you on your way.  But we hadn't accounted for the über cuteness of Stuey Holden and his grandpappy in this image that the Bolton midfielder tweeted yesterday. Gladdens the heart, no?
What Price A Pooch?: What would you be prepared to offer as a reward if your precious pooch went missing? Tickets for a sold out World Cup Qualifier, perhaps? A man in Peru did just that after his pet had been missing for two weeks, and it was joy unbounded for everyone concerned when 'Chocolate' was returned to him shortly after. Tickets for Chocolate, eh? There might be something we can work with in there…
-
BAD WEEK
See the dude who's just about to receive a serious blow to the head? That's Tom Bender. Image via caughtoffside.
De 'Fender Bender: Accrington Stanley's Johnstone's Paint Trophy fixture vs. Tranmere Rovers was called off on Tuesday night after 18- year-old defender Tom Bender was knocked out in a penalty area collision. Bender received a blow to the head when he got caught between a Tranmere player and his own goalkeeper, and was treated on the pitch for half-an-hour before being taken to hospital. He has since been released.

Round 27: The 'He Said, She Said' substitution saga took at Manchester City to an unsurprisingly tedious turn this week, when Carlos Tevez' agent Kia  Joorabchian claimed the player had been the victim of the Mistranslation Monster that seems to stalk the streets of Manchester. To be clear, Tevez loves living in Manchester and 'fights to play' at every opportunity. Whatever.
Not In Our Name: Animal activists in Ukraine has set up a petition to protest against the inhumane methods being used to resolve the problem of stray animals prior to the EURO 2012 tournament the country is hosting with Poland. We know that like us, you guys are big on animal welfare and would hate to see acts of cruelty perpetrated in preparation for football games, so please sign up and tell your friends.
Do it now. Before you forget, yo.
-
Shameless self plug (once again): we're nominated for a Shape magazine award! How fun! We love when we find out about these things late. Nevertheless, we love winning, so help us do that.