January 27th, 2012
Good Week/Bad Week: Grandpas & Great Excuses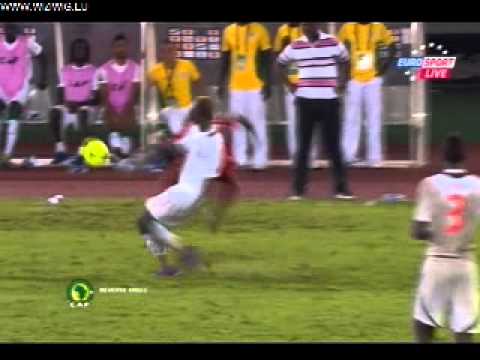 Ekanga Amia of Equatorial Guinea shows the world why the Academy were so wrong to overlook him in the Oscar shortlist. His side went on to beat Senegal 2-1 in the Africa Cup of Nations on Wednesday.
The day isn't close to being done but we're so giddy about today's preparedness that we're willing to share our Good Week/Bad Week update with you all early.
You shouldn't feel special.
GOOD WEEK
Vintage Gunner: Don't panic, Arsenal fans. Arsene hasn't responded to criticism over his kids policy by hiring pensioners, regardless of what the re-signing of Thierry Henry might imply. This happy chappy is Robin van Persie's Grandpappy Wim, who attended the Arsenal vs. United game last weekend as a 91st birthday treat. As well as a photo opp in RvP's dressing room cubby, Wim also received an on-pitch birthday greeting from his grandson, via a post goal celebration. We loved his response and bet you will too.
Good News For Giroud: Earlier this week we were prompted to throw out a query regarding the marital status of Olivier Giroud, who has been spending a little too much time in our fantasy features lately. While we're basically gutted that Olivier is apparently happily wifed-up with 'Jennifer', it's a relief to have you guys rescue us from our fact-check fail oblivion.
Skivvies: Hurrah for Sylvie van der Vaart, who has been unveiled as the 2012 model for Dutch lingerie brand Hunkemöller. The company, who claim to be one of the biggest underwear firms in Europe, said their products "connect perfectly to (Sylvie's) look and person." Which we think is just a nice way of saying she looks super hot in knickers. You know who also had a go at lacy lingerie this week, but that's all we'll say on the matter.
-
BAD WEEK
Harry and Jamie discuss the relative merits of Blackberry vs. iPhone. Image: REUTERS/Suzanne Plunkett.
Redknapp Revelation: Harry Redknapp has confessed he "…can't work a computer, (doesn't) know what an email is… (and has) never sent a fax (or) a text message" during a court case investigation into his personal bank account. Redknapp claims he knew nothing of supposed payments being made because his accountant "runs his life." On the plus side, at least wife Sandra hasn't got to worry that he's been taking pics of himself in the nude, which seems to be the major function of most 'baller smart phones these days.
Leo Who?: An interesting move from Time magazine, who have Leo Messi representin' on the cover of their European, Asian and South Pacific Feb 6th editions, and a plug for a feature about shyness on the US one. Are they being super understanding of the Little Flea's famed aversion to fuss? Or are the publishers simply afraid that the majority of their readership couldn't identify the three time Ballon D'Or winner from a hole in the ground?
Keep 'em Crossed: Fate once again has his wicked way with football this weekend, with the Liverpool vs. Manchester United and QPR vs. Chelsea FA Cup fixtures taking place on Saturday. This will be is the first time the sides have met since the racist incidents that marred their matches earlier in the season and already rumours are abounding about whether JT will be left hanging by Anton Ferdinand, which is becoming something of a habit for the Chelsea man. Hopefully, everyone will behave themselves, but we can't say we're optimistic.