September 28th, 2012
Good Week/Bad Week: Mouthing, Marriages & Fading Memories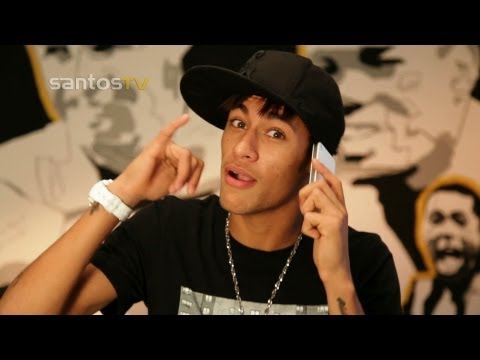 Neymar looks quite comfortable miming to that, doesn't he? Do you think if we all collectively pray to the gods of great music, we can prevent him from embarking on a singing career?
GOOD WEEK
Santos Sing: Just when you thought you couldn't take another 'hilarious' cover of Carly Rae Jepsen's 'Call Me Maybe', along come Santos FC to save your sanity. We figure, even if the tune makes you want to rip your own fingernails out by now, watching Neymar & the crew struttin' their stuff will cheer you up. There's always the mute button, after all.
Liverpool Lovin': Liverpool FC hosted their first civil partnership ceremony at Anfield this week, with fans Sarah McKnight and Christina Walls (plus friends and fam) making the trip from Colorado to tie the knot at the famous ground. Have a nosy through their pics here and then revel in the fact that despite the efforts of some, football is occasionally a lovely place to be.
Carbs Coining It In: Sara Carbonero is now the world's highest paid sports reporter thanks to a fat 600K cheque MediaSet have cut her. By putting this in the GW section, we're demonstrating to ourselves and you that we're grown ups and hating on women like Carbs is dumb because she is basically paving the way for Kickette Next Gen. Alright?
-
BAD WEEK
Can we claim we were ignoring him because of his damn hair? Image: Paolo Bruno/Getty Images Europe).
Missing Marco: Remember last week we didn't notice Zlatan's happy place? Well, in yet another indication of our increasing inability to pretend we're on top of things, we just noticed that Marco Borriello has returned to former club Genoa. We throw ourselves on your mercy by supplying you with the photo above, which features a tantalising glimpse of his inner thigh. The staffer responsible has been put in charge of sorting out the Franck Ribery knicker photos.

Cobham CrimeWatch: Chelsea have called the police in again, but we're relieved to report that it's not because anyone has been shot or blinded by a smoke bomb. Mobile phones, wallets and watches were stolen from the academy dressing room earlier this month, apparently by a lone intruder caught on CCTV. Expect any dodgy videos on those phones to be showing up in your local tabloid shortly.
Big Men In The Stands: In a sit down interview with CNN this week, Freddie Ljungberg admitted he was on the receiving end of gay taunts during his EPL career. He also talked about his career and Arsenal's league form during the interview but disappointingly, remained fully clothed throughout.