September 9th, 2011
Good Week/Bad Week: Poker, Portents & Punk Hair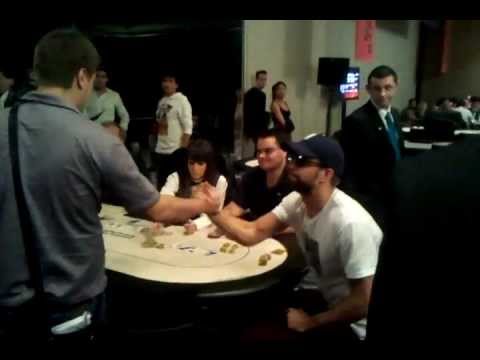 GOOD WEEK
Joe Le Taxi: Joey Cole has eschewed the opportunity to take advantage of his new colleagues' language skillz… in favour of learning French himself. The Cockney boy, who has just begun a season long loan to Ligue 1 side Lille, told how his new team-mates speak great English, but he 'doesn't want to rely on them'. So far, his knowledge extends to 'Bonjour' and 'Au revoir'. Good luck, mate!
Deal Brek-Er: Top news for MLS fans who feel that their boy Brek Shea isn't getting enough love. Our mate's over at KCKRS have identified the budgie-haired FC Dallas midfielder as 'the most interesting man on the USMNT'. Do you agree with their assessment, Kickettes? Or his prowess on the field just over-shadowed (literally) by that deeply alarming quiff?
The Baby Boom Continues: Silvia, Giampaolo Pazzini's wife, is expecting. Uh huh, it's been that kind of week.
-
BAD WEEK
Are you listening, Freckles? Image: Laurence Griffiths/Getty Images/Daylife.
Tormenting Torres: Vincent Del Bosque has warned Fernando Torres that he will not pick him for the Spanish NT side again until he starts scoring for Chelsea. And just in case Nando still isn't clear on the impact his one league goal this year is having on his career, Andre Villas-Boas has pointed out that he will only retain his place in the Blues line-up as long as they are winning. Gulp.
Dance Off: Mere seconds after we are confronted by visual terrorism that is Robbie Savage on Strictly, we learn that another EPL player has secretly been plotting a little of his own lycra action. Frankie Sandford has revealed that 'baller boyf Wayne Bridge has been pestering her band's choreographer for lessons; a horrifying prospect for anyone still reeling from this (left).
Standing United: Manchester United have sent their condolences to Russian ice hockey club Lokomotiv Yaroslavl in the aftermath of Wednesday's plane crash, which reportedly killed thirty-six members of their staff. The plan crashed upon take-off, mirroring the 1958 tragedy in Munich that eventually killed twenty-three passengers, including United players and journalists.
We, of course, send our thoughts and prayers to everyone affected by this terrible accident.