August 31st, 2012
Good Week/Bad Week: Post-Its & Perusals
We must warn you, there's a bit of an inspirational feel to our weekly round-up here, Kickettes.
Seriously. We found a picture of a player reading a magazine and everything!
GOOD WEEK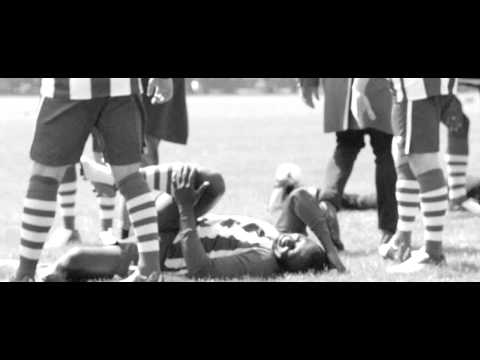 Typo Terrier: Is Jan Vertonghen checking for typos? Or is the new Spurs mag, featuring interviews with Ledley King and Vertonghen, just a damn fine read? Either way, we always appreciate photos of players in unusual positions, so cheers to @SpursOfficial for thinking of us.
Inspiring Athletes Corner: The Paralympics are in full swing now, giving us another great opportunity to stand back and admire other people's sporting prowess while sprawled across the sofa.  Have a look as Team GB's David Clarke gives Mr David Beckham a masterclass in blind football and just feel the inspiration rain down onto your prone, snoozy form. Although that might just be an caring co-worker spraying you with fruit juice to wake you up before the boss catches you.
Suited & Booted: Robbie Williams celebrated the latest releases from his Jack Farrell collection with an advert featuring a good old game of 5-a-side. This being the Robster, he and buddies including Olly Murs and model Sid Ellison turned out to play in clothes from the collection, including full length trousers, coats and shirts. We've spent a lot of the morning trying to imagine Cristiano taking to field clad from head to toe in Armani, but cannot see him risking the stains. Ergo, it won't catch on. Nice try though!
-
BAD WEEK
We Left You A Note: We don't understand why footballers consider cars to be status symbols when they spend most of their lives crashing them, speeding them or falling victim to a vehicular merk. Mohamed Bangura is the man considering the purchase of a bus pass after Celtic teamies Kris Commons, Joe Ledley & Scott Brown covered his car in Post-Its while it was parked at the training ground. We're actually quite impressed. This must have taken bloody ages.

So Sue Me: DC United are being sued by a former player for medical negligence after a concussion injury sustained during a match that effectively ended his career. Bryan Namoff is seeking $12 million for post-concussive symptoms including brain damage, headaches and fatigue, which he believes were exacerbated by incorrect treatment.
Cry, Baby, Cry: If you can watch this video of Inter Milan legend Julio Cesar waving goodbye to the San Siro without losing control of your mascara, you're a better person that anyone in the Kickette office. He's going to QPR, in case you missed it.