July 1st, 2011
Good Week/Bad Week: Tired & Emotional
We thought long and hard about whether it was mean to lead a post that contains heart-breaking news for Arsenal fans with a picture of Cesc Fabregas' nummy tummy. But then we figured that first and foremost, our duty is to the Kickette Army, whose appetite for manflesh will not appeased by mere sentiment.
This was a reasoned decision. Any complaints should be mailed to the Mayhem & Fruit Beverage Suite, where they will be treated with the contempt they deserve.
GOOD WEEK
Down, boy!: With the Women's World Cup now well under way, it's only appropriate for us to confirm what you all knew anyway. Male football players take up to thirty seconds longer to get up after a challenge than female ones. Uh huh. It's true. Sports boffin Martin Lames, who was part of a team of scientists who conducted research into the matter, claims that aside from tactical stoppages, the phenomenon can be put down to 'the thought of taking centre-stage' which is 'much more pronounced than for  women, where the game itself is paramount.' Or, to put it another way, Cristiano likes looking at himself on the jumbotron. Actually, is that a scientific breakthrough?
Ryan's Return: 'Good' is one word to describe the news that Ryan Giggs received this week. Astonishing, confounding and insane are some of the other, more polite responses that rang around the Kickette office on the day it was revealed that Stacey Giggs' was planning to give her errant hubby 'another chance'. Ahem. Meanwhile, Imogen Thomas' career is going from strength to strength; this week she was snapped getting bitten on the backside by a horse. We think this might be a euphemism for something, but we're too worn out with this whole business to care now.
Torsten Frings. Making your team better by simply being there. Image: Reuters/Daylife
The Frings Effect: Former Werder Bremen defender and favoured Kickette caveman Torsten Frings has signed for Toronto FC as a designated player. The side, who play in the MLS Eastern Conference, hope that a signing of Frings' calibre will appease their fans who have made their displeasure at their teams' poor performances this season felt by not showing up for games. It seems to be working already; although Frings won't be eligible to play until mid-July, his new team won on Wednesday night for the first time since May 7th. Thoughts, Canadian Kickettes?
-
BAD WEEK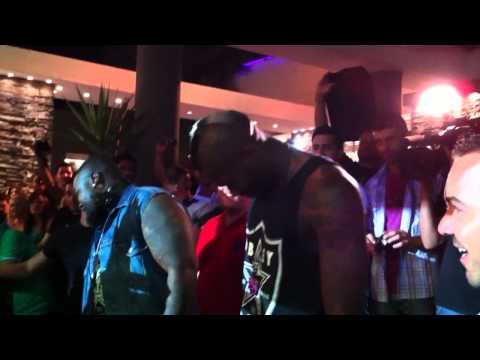 Skirting Around: When taking into account the response most gave his foray into lady-wear, Djibril Cisse will probably be regretting his decision to take to the mic in a nightclub to thank Panathanaikos fans for their support during his time at the club. Cisse is rumoured to be moving to Lazio, and became so overcome with emotion that he had a little cry in the DJ booth after his speech. Djib? We love you even more now. Whether the Lazio fans will is an entirely different matter.
That's a rap: Ashley Cole's summer adventures continue to confound the tabloids, with the Chelsea left-back's visit to Jay-Z's (left) Roc Nation offices in Manhattan igniting speculation that he may be planning a career in music after he hangs up his boots. Or, depending on who you believe, that he's deviously trying to convince ex-wife Cheryl Cole that he's a nice bloke and taking an interest in her career. We're not sure. Quite frankly, either notion gives us the fear so we're going to pretend we didn't read it.
Bang Bang: We left it til the end, to minimise the pain. But Arsenal fans? We do fear for the future of your waistlines as you desperately consume chocolate in vast quantities to block out the pain. After several (thousand) years of denial, bitching and complaining from both parties, Arsenal have reluctantly admitted that they will sell midfielder Cesc Fabregas (top) to Barcelona for the right price. With Gael Clichy apparently in talks with Manchester City and the rumours about Samir Nasri's flirtations with Manchester clubs gathering pace, we can't help but feel that unless Arsene Wenger gets stuck into the transfer market, the Adorkables trophy-less run isn't gonna end anytime soon.