March 18th, 2011
Good Week/Bad Week: Tomfoolery & Taxis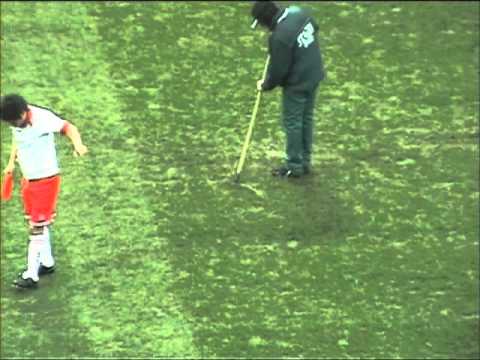 GOOD WEEK
Whacked Out Warm-Up: AC Milan fans were distracted from their programme reading and pre-match routines (above) by a bunch of actors purporting to be players and arsing around on the pitch during the 'team' warm-up before the Bari game last weekend. Activities including grass swimming and frisbee were enacted, but the whole thing was apparently a set-up by Gazzetta dello Sport to promote their paper. Better than cheerleaders though, no? via dirtytackle
Stockton-area pubs/clubs patrons: Your local watering holes will remain Lee Cattermole-free for another year. Hurrah!

Crisis? What crisis?: From a goalkeeping point of view, many Arsenal fans might argue that this story belongs firmly in the 'Bad Week' section, but from an entertainment (and neutral) perspective, the return of Jens Lehmann to the Gunners fold is about as good as it gets. The unpredicable German has been signed on a monthly rolling contract after Wojciech Szczesny suffered a dislocated finger in the game against Barcelona. We await his first appearance with interest.
Image: Jasper Juinen/Getty Images Europe/Zimbio
BAD WEEK
Mario Balotelli: Before Mario Balotelli got himself sent off 30 minutes into Manchester City's crucial Europa League tie against Dynamo Kiev last night, he seriously struggled with affixing his training bib to his body (much to the general public's delight). Adding insult to injury, Manager Roberto Mancini is apparently dunzo with the striker's asshattery and hinted he will bench Balotelli for City's game against Chelsea this weekend.
Image: ANDREW YATES/AFP/Getty Images/Daylife
Taxi For Rio: Rio Ferdinand was apparently snubbed this week by a bunch of twelve year old boys whose garment of choice is the onesie. Yes, as well as having to deal with rampant speculation regarding his status as England captain, Rio reportedly visited a hotel in Manchester to meet X-Factor boyband One Direction. They were supposedly too busy. Seriously?!
Skinny headbands: A certain (special) elastic hair holder assaulted David Beckham's supreme strands during the MLS Season Opener between Los Angeles Galaxy and the Seattle Sounders. David, sweetie pie, leave this look to the professionals.