February 11th, 2011
Good Week/Bad Week: Trousers & Tattoos

Now you have had your fill of merriment at our photoshop frolicking, catch up on the best and worst in the footballing world this week. **
**If you weren't planning to 'Read More' we suggest you rethink your stance. There is a video after the jump involving Lionel Messi, an airport and a pair of collapsing trousers that any Kickette worth their salt can't afford to miss.
GOOD WEEK
- Total Tattoo Coverage: Scoring a goal for your country against England is usually a surefire way to guarantee a few headlines for oneself. But Daniel Agger's strike was cast into shadow an hour and a half later when he pulled his jersey off to reveal the mother of all tattoo collections.
- Paul Long: His may be a name you're not immediately familiar with, but this week Paul Long found himself in a position that most Kickettes have been striving for since they learned to drive. Yes, upon breaking down on a busy English thoroughfare, Paul was gallantly rescued by a passing Mr David Beckham. We are heading out in the Kickette-mobile (think Ant Hill Mob plus cocktails) as we speak.
- The Pope: first he gets his own iPhone app and then we learned he's lining up a meeting with the Spanish National Team. LUCKY.
BAD WEEK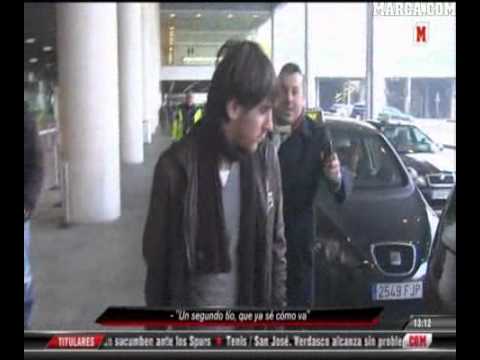 Of all the times. Siriusly. (via Dirty Tackle. Because they're worth it)
- Messi Trousers: This guy suffered the most embarrassing and ill-timed wardrobe malfunction since Janet Jackson bumped into Justin Timberlake at the Superbowl. Watch and laugh learn, people.
- Identity Crisis: When pulling sickies to get out of International Friendlies, it's best to keep a low profile and not appear in a club friendly, like some Sparta Prague players did. In order to fool FIFA, they wore jerseys with the wrong names on. Good grief.
No, we haven't photoshopped our own faces over Caroline's. But we have thought about it. Image: Copyright Elle magazine.
- Nicklas Bendter: First up, he gives advice to Fabio Capello on team management before his team get beaten by uh… Fabio Capello's boys. Then Danish magazine Se & Hør stated that former beau Caroline Fleming has never been happier; now that Nicky (and his partying) is out of her life, so they say, Fleming is able to focus on being a mother.
Worse still, when Nicky + friend turned up at her London home last week, she barred their entry and met the Arsenal man on her doorstep intead. Nicky and friend then slunk off to a cafe. On their own. For his part, when asked whether the whole divorce situ would affect his playing, he answered 'Do I look like it affects me?'
Ooh, snappish! Regardless, we've forwarded our location coordinates to Nicky, along with an open invite to proceed straight through Kickette HQ's front doors. He's providing the cake.