September 23rd, 2011
Good Week/Bad Week: We Made It!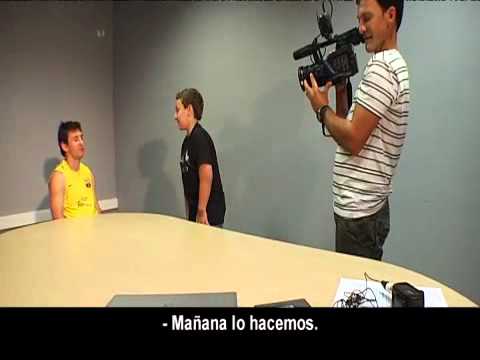 Strains, speeding and sweetness abound in our user friendly round-up of the week's major talking points.
Congratulations on making it to Friday, everybody!
GOOD WEEK
Second Chance At Lurve: Is Sergio back with Lara? Certain magazines and social networking sites are publishing pictures that imply as much. For those of you now reaching for the consolation cookie jar, a word of advice. Don't click the links. Even The Ramos isn't worth the extra poundage accrued by such consumption, Kickettes.
On A Promise: Did you notice Leo Messi patting his legs after his first goal against Osasuna last week? He was making good on a promise he made five months ago to a young amputee who he met at the Nou Camp. Soufian, who didn't let the fact that he has two prosthetic legs prevent him from practicing with Messi, wheedled a dedicated goal celebration out of the midfielder, who duly obliged. We. Die.
Bolton Bed Head: In case you missed it, Bolton's blonde bombshell Stuey Holden returned to first team action this week, in his side's Carling Cup fixture vs. Aston Villa. We're thrilled to confirm that both his leg and his lovely hair (if you ever need help with your blowout Stu, feel free to call into Kickette HQ) performed admirably.
Image: Michael Steele/Getty Images.
-
BAD WEEK
Sav poses with his hotter dancing half, Ola Jordan. Image via twitter.
A Savage Strain: Terrible news for Robbie Savage fans. Yes, all four of you! The Dancing Doofus has strained his thigh during practice, which coupled with his self-proclaimed ineptitude on the dancefloor may well impede his chances on the show. We can live with that, though. We've already got bored with Sav Watch.
Been Caught Speedin': You can't call yourself a true EPL playa until you've accrued a number of motoring offences and/or filled a fellow professional's vehicle with fish. So congrats to Carlos Tevez, whose punishment for reaching the heady heights of 38mph on the Chester Road, Manchester was a fine and points on his licence. We're going to spend the whole day wondering what the photo on his licence looks like now. This, maybe?
Load of Bull: Defender Rafa Marquez has ensured that the New York Red Bulls locker room will be an uncomfortable place to be over the next few weeks by blaming his poor performances on his team-mates. Rafa, who was booed consistently during the Red Bulls defeat to Real Salt Lake on Wednesday, stated in an interview that 'there isn't an equal level between my team-mates and I'. Uh huh.
How's your week been, people?