October 11th, 2010
Kickette Catch Up: Weekend Gossip Cheat Sheet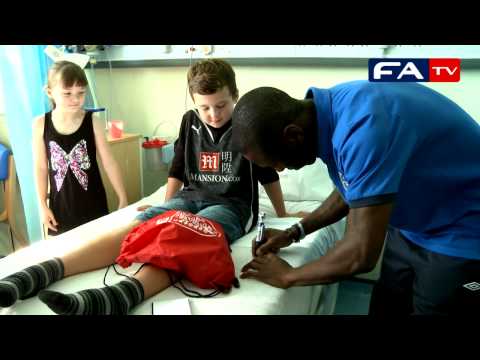 Saturday
- While away on international duty, England stars Steven Gerrard, Joleon Lescott, Shaun Wright-Philips and Ashley Young took time out from training to visit the children's Ward of Watford General Hospital. See also: Joe Hart smiling, jagerbombing – two activities which, in our opinions, added further value to his hot stock.
- By the way, should you be a UK resident who is interested in seeing Hart's on-pitch antics, along with the rest of the ENT as the squad squares off against France, mosey on over to UMBRO's Facebook page for your chance to win a trip to Wembley on 17th November.
- There apparently was a rather awkward encounter in Madrid late Friday/early Saturday, involving Guti, his girlfriend/ex-girlfriend Noelia Lopez and his ex-wife, Arantxa de Benito. Despite confirming how she and Goots broke off their romance last week, Lopez and Guti attended the Juan Pena concert together. Things were said to be tense, though, once Arantxa's Shakira-wannabe hips began obstructing her personal space. Nevertheless, the on/off couple left in the same car, so who the hell knows what's going on anymore?!
- Stuart Holden, of the Bolton Wanderers, took his shirt off Saturday night post-USMNT duty.
Sunday
- We were too distracted by the fierce hairstyles Col Rooney was rockin' in a Sunday paper interview to dwell on the mixed messages both halves of the Rooney couple were spreading. More specifically, Wayne exclusively speaking with the same tabloid that blew the lid off of his recent hooker hoopla.  Also: his partners-in-crime were out-n-about this weekend.
- Where in the world is Cesc Fabregas? No, seriously, he wants you to guess. If you aren't already following him or us on Twitter yet, you are b-a-n-a-n-a-s.
- How's this for a job well done? AC Milan's Zlatan Ibrahimovic offered a trial to the son of the fella he hired to build his Swedish manse, after the teen and the on-loan star had a kickabout one day during construction hours.
- Sara C.'s saucy stares at Iker on the sidelines somehow helped her nab her first journo award for sports reporting -  the 2010 Golden Atenna Award. Coincidentally, today's fun-filled round-up of snark was brought to you by her WAG flashback, which ain't nearly as horrid as Alex in her earlier days.