November 8th, 2010
Kickette Catch Up: Weekend Gossip Cheat Sheet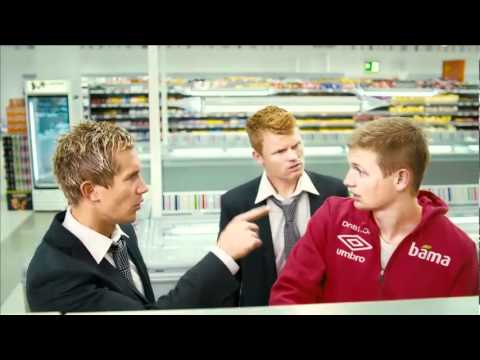 Jon Arne Riise & Morten Gamst Pedersen: put down the auto-tune and stop singing about produce in languages we can't understand. Oh, Mondays! Video: 101GreatGoals.com.
Saturday
- One young footy fan thought meeting Fernando Torres was more exciting than meeting the Pope. We'd have to agree.
- Arsene Wenger responded to the accusations of having an affair with… a rapper (?) that The Sun lodged against him.
- A twitter photo war between Stuart Holden and Kevin Davies began brewing after Stu tweeted an ace photo of Kev in the tub. The Bolton captain is gathering his ammunition now.
Sunday
- Victoria Beckham looked effortlessly chic in her own label's sunnies and handbag as she strolled through Heathrow early yesterday. Its rumoured that her husband will be appearing on an upcoming episode of U.S. sketch comedy show, Saturday Night Live. (Image: Bauer Griffin)
- Newcastle's Andy Carroll and Kevin Nolan were "pleased" that the NOTW didn't allege that the pair took the drugs that were photographed in the Sunday tabloid beneath the head 'NEWCASTLE PLAYERS' COCAINE ORGY'. Um, guys? What about the sexual allegations – such as 'Ride me! Ride me!'? We can only imagine how Nolan's wife feels about this whole situ.
- From the "really? This is news?" files: Alex Gerrard almost gets a parking ticket. Sigh.
- Rio Ferdinand celebrated his 32nd birthday, and told the Twitterverse he's all about slippers, socks and boxers for presents.
- John Barnes wifey has a baby; he stays to finish up the 'Pool/Blues game.
- Cristiano Ronaldo won a libel claim over reports from 2008 that he was partying it up in LA while on crutches, drinking up a storm and "dancing the night away" with hot chicks.