March 2nd, 2011
Luis Moreno: Owl Outrage – UPDATED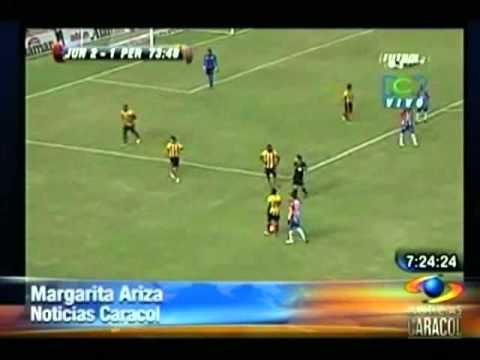 UPDATE: Today we learn that Luis Moreno will be punished by the Columbian Football Association for kicking the owl. It is unlikely that his punishment will be as 'creative' as many of those suggested by our commenters. Which is sad.
-
There aren't many things that make us lose our sense of humour here at Kickette HQ.  We pride ourselves on being able to extract funsies from the most unlikely of situations, including infidelity, intern shooting and international incidents. It's a good thing, really.
We wouldn't have anything to write about if we didn't.
However, our ability to cleverly riff our way through the issues of the day rapidly dissipates when violence against animals is concerned. Most of us are pet owners here (with varying degrees of disciplinary success, we might add), and the above video of Deportivo Pereira defender Luis Moreno (left) kicking an owl mascot for having the temerity to land on the pitch during the game has ruffled more than a few feathers.
Image: Getty Images/Zimbio.
Seriously. We are stunned.
In response, we are in the process of forming a delegation of Kickette representatives who will travel to Colombia, seek out Mr. Moreno and (calmly) explain to him reasons why we disagree with his actions. Does anyone want in? We're not allowed to drink in transit due to an outstanding restraining order involving a previous incident on a plane, but on the plus side – Ashley's promised to lend us his air rifle.
Form an orderly queue, please.