April 21st, 2011
Midweek Results: Whoops, Butterfingers!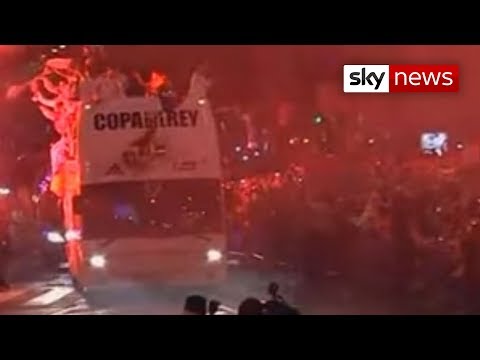 Thank you, Sergio 'butterfingers' Ramos. We have spent the last couple of days issuing threats of casual violence to our interns in order to have some Midweek Results for our beloved readers, and you have just ensured they won't bother reading any of it.
Oh well. Life in the Kickette office is brutal at the best of times. Admittedly, not quite as brutal as being dropped from a great height and then run over by a bus, but pretty harsh nonetheless.
Hmm. There's a thought.
Copa Del Rey Final
Barcelona 0-1 Real Madrid
See that grip he's got on that? Images: Reuters, AP Photo/Daylife.
So it's first blood to Real Madrid in the battle of the Spanish big boys. Jose Mourinho's men (briefly) lifted the Copa Del Rey trophy last night, after a marathon final which saw Cristiano Ronaldo scoring the winner deep in extra time. Barcelona had their chances, but Real's solid, if frequent overly-enthusiastic, marking ensured that Messi, Villa, Iniesta and Xavi were unable to strike.
The real story came later. If you've not yet heard, the celebratory open topped bus trip around Madrid was slightly marred after Sergio Ramos failed to hang on to the trophy and dropped it. Gravity took hold, the trophy plummeted to the ground and appeared to be crushed under the front wheels of the bus. Fortunately it was retrieved before much damage was done, but we would imagine the Ramos' won't hear the last of this for quite some time.
Especially from us.
-
EPL
Newcastle United 0-0 Manchester United
I'm thirty-bloody-seven! What the hell do you expect?! Image: Getty Images/Zimbio.
A strange match, this. Manchester United travelled to Newcastle in the hope of extending their lead at the top of the EPL table, but in the end they were fortunate to leave with a point. Newcastle were organised and coped with early pressure well, while Rooney and Hernandez failed to hit the target despite several chances.
But the story of this match lies in the penalties both teams were denied; Newcastle's for a poor Anderson tackle on Peter Lovenkrands and, very late on, the Red's for a Danny Simpson tackle on Javier Hernandez. Whether rightly or wrongly (and you can be sure that plenty of people have their opinions), Manchester United remain at the top of the table, Newcastle United will almost certainly be playing EPL football next season. Everyone wins, yeah?
Tottenham Hotspur 3-3 Arsenal
'Mouth closed, tummy exposed'. Cesc demonstrates our number one requirement in the recently published 'Kickette Professional Standards for Footballers' handbook. Image: Getty Images/Daylife.
Twisted or not, Cesc Fabregas' words regarding his team-mates winning mentality came back to haunt him last night as Arsenal took a 3-1 lead in their derby fixture against Spurs and then threw it away.
The Gunners took an early lead through Theo Walcott, who netted from Cesc's pass but Spurs equalised moments later via Rafael van der Vaart (left).
The game continued at breathless pace, which went some way to reflect the importance of the fixture for both sides. By the time twelve minutes had passed, Sami Nasri had netted for Arsenal, and Robin van Persie looked to have collected the three points necessary for Arsenal to retain second place in the EPL table with his goal on forty minutes.
However, Spurs didn't earn their place in the quarter-finals of the Champions League by conceding defeat before half time. Tom Huddlestone smashed home for 3-2 just before the whistle and Cesc was reminded of his comments on seventy minutes when Szczesny fouled Aaron Lennon in the area and van der Vaart scored from the spot.
Image: Getty Images/Zimbio.
So it's a point a piece from a thoroughly entertaining game, but Arsenal's hopes toward the title and Spurs dreams of finishing fourth have both taken a blow. It's going to be an interesting run in, to say the least.
Chelsea 3-1 Birmingham City
As if we would be looking at your nipples, JT. Don't be shy! Images: Getty Images/Zimbio.
Are Chelsea out of the title race? Many have written them off, but after a comprehensive defeat of Birmingham City at Stamford Bridge last night, the Blues are back in second place and trailing Manchester United by six points. With five games to go in the league, the task might seem insurmountable, but with Alex Ferguson's boys freely dropping points right now, Carlo Ancelotti feels there is at least hope.
We can't help but agree. Despite the misfiring Torres (yes, we're bored too but it seems wrong not to at least mention it), goals were easy to come by for Chelsea last night. Florent Malouda scored two of Chelsea's three, while Salomon Kalou also had a crack before being subbed by the aforementioned and increasingly infamous Spaniard.
In great gameshow tradition, Birmingham didn't leave the show empty handed; their consolation was a Sebastian Larsson penalty in the seventy-sixth minute. It didn't make a difference in the great scheme of things, but with things being so tight in the lower half of the EPL table, the extra goal might prove crucial to Alex McLeish's team. We shall see.
-
Coppa Italia
Even Borri has no clue as  to what the hell is going on with his hair. Images: Reuters, AP Photo/Daylife.
Two first leg semi-finals in Italy's famous cup competition, and another opportunity for Inter to face city rivals AC Milan in the Coppa Italia final remains open. On Tuesday night, Roma met the current holders at the Stadio Olimpico and were nearly a goal down after two minutes when Dejan Stankovic put the ball in the back of the home side's net after a defensive miscommunication.
Fortunately for Roma, the goal was disallowed, but it was Stankovic who made the difference later on with a screamer from twenty-five yards. Whether it will be sufficient to see Inter in the final remains to be seen.
On Wednesday, AC Milan did take an early lead against Palermo via Zlatan Ibrahimovic, but were unable to keep the initiative as the game progressed. Two Palermo goals either side of half time put the home side on the back foot and Milan only kept themselves in it when Urby Emanuelson struck the equaliser after seventy-sixth minutes.
The second leg in Sicily will be very interesting indeed…
Anyone got anything to say that doesn't involve a certain Spanish defender, a large piece of metal and a mode of affordable transport? Thought not.