August 6th, 2012
Playford FC: Pioneers Of On-Pitch Nudity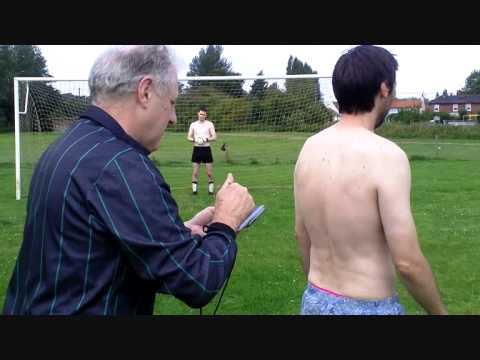 Cheers to Playford FC, who not only offer a fair bit of on-pitch nudity in this promo vid for their team (always welcome on a Monday morning), but an insight into the practicalities of having our dreams come true.
Playford FC. The stuff (our) dreams are made of. Image via ipswich star.com.
Playford FC are a Sunday league side who don't have a sponsor. For those unfamiliar with the English league structure, these are the guys who play for fun, and for whom arrival on the pitch with a chestnut tan and pink boots is likely to result in being kicked to death vs. receipt of an Armani modelling contract.
In order to grab some much needed cash to pay for kits, they made this hilarious vid to show people the consequences of not being able to afford club shirts, shorts and socks – they have to play in their pants.
While we can only fantasise (and we frequently do) about our favourite boys playing in the near-buff,  it does bring to light a number of worrying questions. How would we deal with this level of exposure of The Ramos™' bottom during a sliding tackle (2:o6)? We may well explode and certainly wouldn't be in a fit state to report on it after the fact. Would the ref have to yellow card every goalscorer, as technically a shirtless player celebrating contravenes some ridiculous by-law?
Our pretty heads are hurting, Kickettes. What other on-pitch perils are we inviting with this fantasy fulfilling idea? And how the ruddy hell are we going to solve them when drunk?