October 28th, 2010
Random Pickups: Three Things That Improved Our Day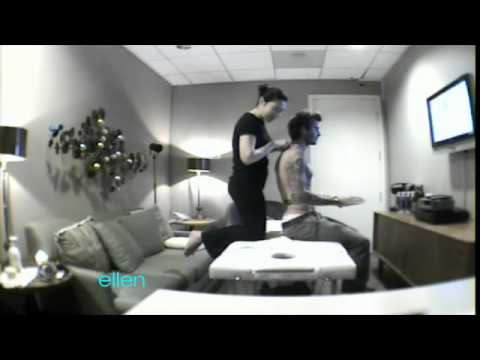 As we pine for ice cold vodka and weekend footy to soothe our work-weary souls, motivation levels at Kickette HQ are bordering on empty. So instead of some proper content, we give you this – three random moments that made us pick our faces up from our keyboards and smile:
Numero Uno: Becks pranking an unsuspecting masseuse on hidden camera for the Ellen De Generes show.
Highlights include: Shirtless Becks, asking the masseuse to call him "Ricky", saying he has a phobia of thumbs,  mentioning that he has skin 'like baby peaches' (we always suspected as much David) and sighing over how hard it is to be pretty. Props to David for being such good sport and being genuinely hilarious. We love!
P.S Check out ONTD_Football to see how Daddy Becks fared when telling Brooklyn B about the birds and the bees.
Numero Dos: Oprah wearing Victoria Beckham
Oprah looked fabulous in a nude dress from Victoria's AW 2010 collection as she accepted an award the Maria Shriver's Women's Conference on Monday. Mrs B was delighted at the endorsement from one of America's most powerful women and took to twitter to demonstrate her glee.
Go Victoria! Getting Oprah in her designs is a major coup and we're v. happy for her.
Numeros Tres: Rio Ferdinand's #EGGS
Rio's Twitter hashtag #EGGS to call out haters and stupid people on the internet everywhere is something that we're adding to our vocab as we type. We love, and feel this is another example to add to the growing pile, of why footballers on Twitter is complete genius.
So, whats making you smile on this dreary Thursday Kickettes?